Mirrors are key elements in your home interior design. Besides the decorative purpose of this pieces, it also has functional advantages! Hence, they become essential for your well-being and for your home atmosphere, especially at a time when we spend more time at home.
But the truth is one: there are countless mirrors, with different shapes and sizes that can be applicable to several rooms in your home. However, we are here to help you! Are you looking for not only functionality but also decoration elements? Then, you are at the right place! Check on this article how to choose the ideal mirror for your decoration!
Before you start…
One of the first aspects to have consideration, on the moment of choosing the ideal mirror, is lighting.
The lighting detail can be important if you have a preference for natural light.  In this case you have to have in consideration where you are going to put the mirror, being necessary for it to be close to a window in the interior decoration of your home.
However, you may aim to solve layout issues, turning a small space into a larger place. Decorative mirrors are the solution, once it provides a wider sense of space and reflect quote luminosity.
In addition to enlarging ambiences, this pieces have the perk that they can be positioned in various ways: vertically, hanging, in cupboards, leaning on furniture … the options are endless!
Do you want to enlarge the spaciousness of your room? Placing a rectangular mirror on the wall could be a good solution.
Louvre mirror from Jetclass will be the ideal solution for you, because it gives you the possibility to choose between different sizes and positions!

Louvre Mirror | Durham Sideboard
Entry Hall
Having a mirror on the entry hall of your home is essential if you want to do a few finishing touches on your looks. Moreover, the entry hall decoration reflects the impression guests have of your home.
Hence, it is crucial to have in consideration the size of your entry hall. If the space is small, the ideal will be to choose for a small round mirror. In this case, Apollo is the right choice if your requirements are such as refinement and elegance.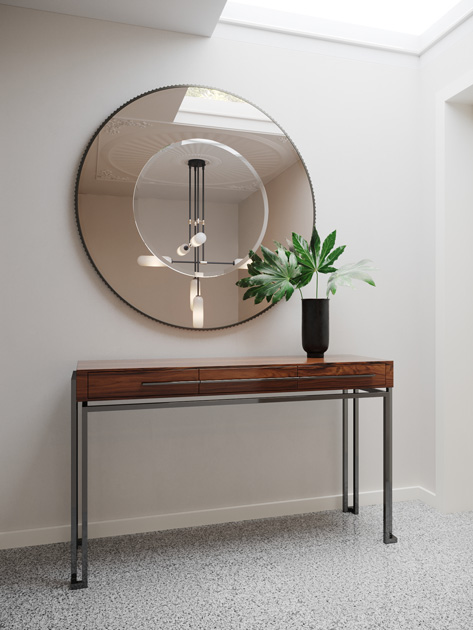 Nevertheless, if it is a big entry hall and you want to convey a modern vibe, placing a standing mirror can be a great option. The mirror Gliss from Jetclass can be a good choice! Through the game of geometric shapes and reflexes, it provides a distinct touch to the decoration of your entry hall.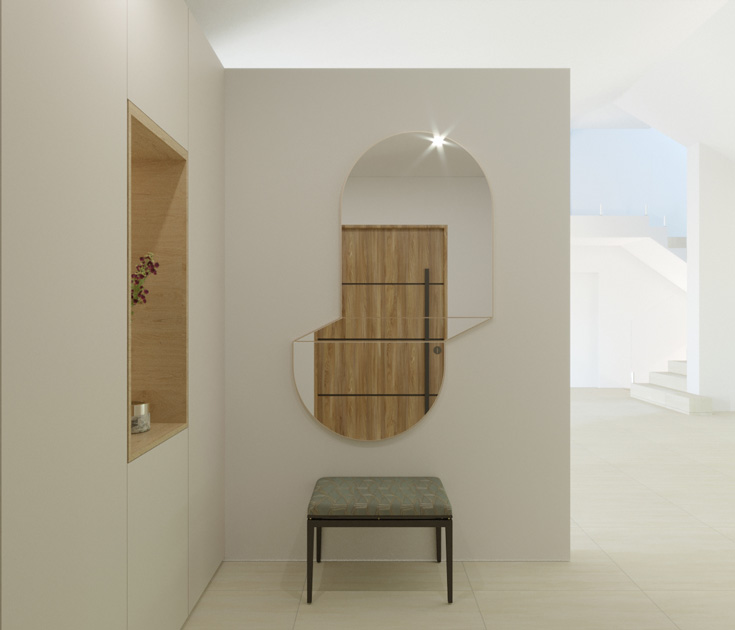 Gliss Mirror | Lencaster Stool
Dining Room
When choosing the perfect mirror for your dining room it is important to analyse a few aspects: not only the size, but also your decoration style, the furniture and the colours.
If your goal is to give a classic touch on your dining room decoration the ideal would be to go for mirrors with carving and gold finishes. On the other hand, if you are seeking a minimalistic and modern style, the best choice would be mirrors with simple and thin frames.
Mirage mirror is the choice that meets your needs! It is adaptable to both classic and modern styles, making your interior decoration unique and sophisticated.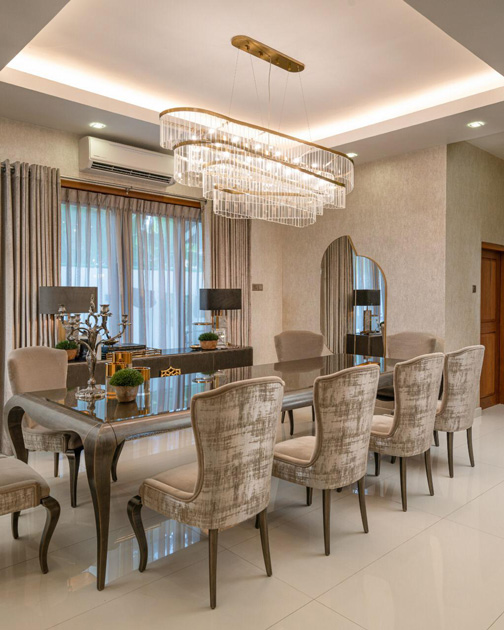 Mirage Mirror | Christie Pendant | Deluxe Dining Table | Deluxe Chairs
Bedroom
Bedroom decoration is equally very important, deserving a special attention from you. A decorative mirror is a key piece that cannot be missing!
If you have a large bedroom you can opt for a big mirror. But be careful with where you are going to put it so it does not overwhelm the ambience. So, our tip if for you to choose a simple mirror, fixed on the wall next to the bed.
Thus, Jetclass suggests Luxus mirror: a sophisticated mirror that fits perfectly in any bedroom!
It is equally interesting to make use of the furniture you have, from chest of drawers to dressing tables, and to put above them a decorative mirror. There, round mirrors are an excellent ally. Notre Dame mirror is an interesting piece! Besides being a functional mirror it is aesthetically impressive and elegant.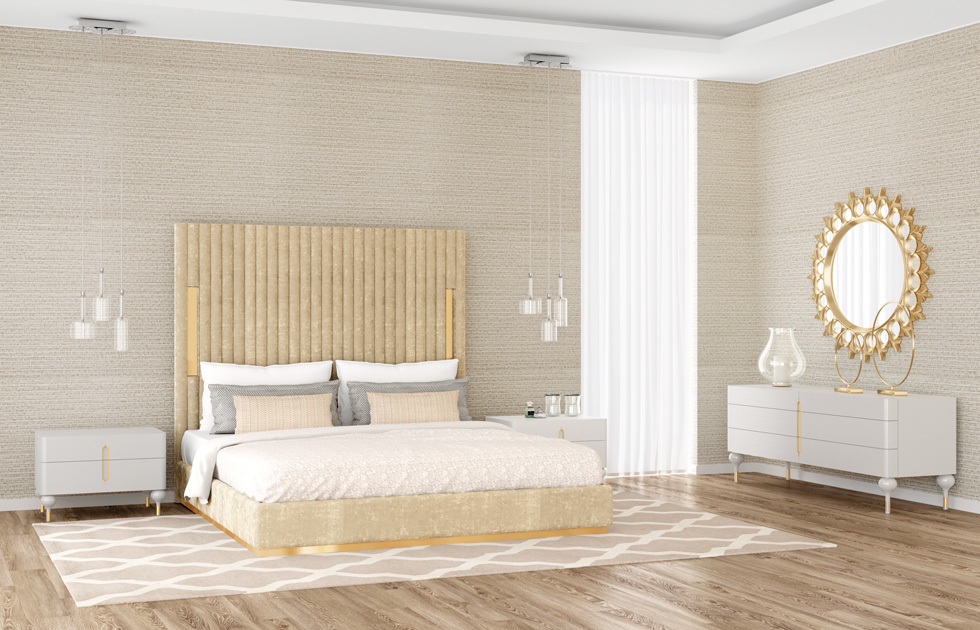 Notre Dame Mirror | Plaza Bed | Lust Bedside Tables | Lust Chest of Drawers
Is your bedroom small? There is no problem! You can opt for mirrors that solve this small details. Bella mirror from Jetclass is the perfect piece to give a visual effect of depth to the space.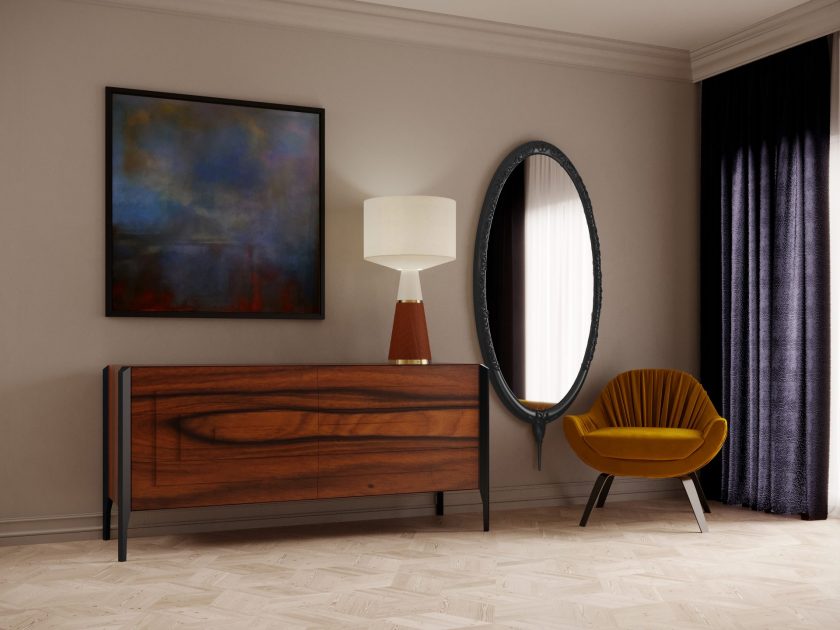 Bella Mirror | Stuart Chest of Drawers | Draper Armchair | Ottis Table Lamp
Whether in the bedroom, dining room or hallway the options are endless! At Jetclass you find a wide range of decorative mirrors which will allow you to enhance your home.
We hope these suggestions have sparked more ideas on how to use mirrors as an element of functionality and decoration. If you need our help, talk to us! We will help you choose the ideal mirror for you.