Jetclass wants to inspire you with 5 dining room decoration ideas. Have we awaken your curiosity? Stay with us and you will be able to create a professional dining room decoration. All details are important so that a pleasant and inviting environment is created for you and your guests.  In the dining room you can spend evenings with family or friends, hence we want to help you provide special moments and unique experiences with the proper furniture.
1 Neutral Colours
Dining Rooms with neutral colours convey a modern, tranquil and tidy space. White, brown and grey are the ideal colours for the ambience we are describing.
Azure sideboard and Azure console, one on each side of the dining table, are pieces with peculiar design that serve as a support for the meals due to the storage they have. Besides that, they fill the space with its sublime and sophisticated vibe with a mix between contemporary and vintage. On our website you can choose the colours you would like to see on these pieces. In this decoration, we also suggest, in the centre, the use of a circular dining table, like Spear, where the details of the base and the materials of the top reign. We also suggest you to add other elements to your dining room, like rugs or curtains with the indicated neutral colours and, if you would like to add a touch of colour, you can do it will small details on this elements or on the chair's fabric.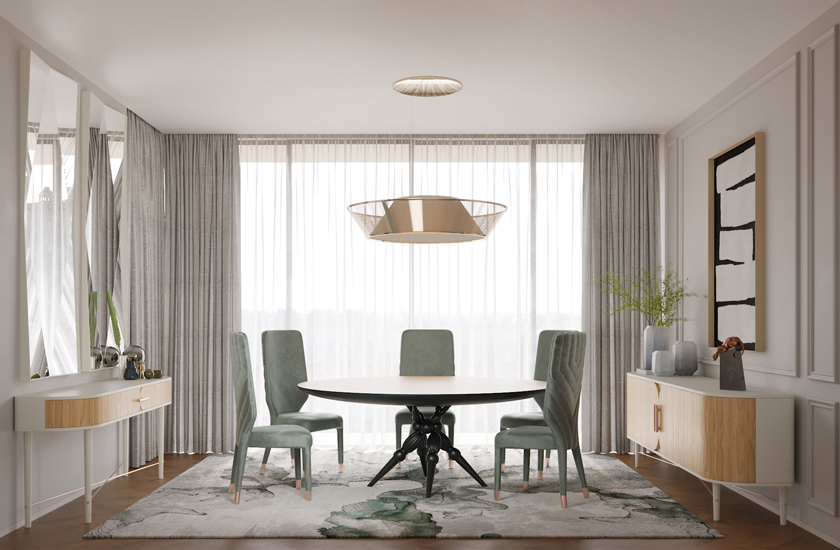 Azure Console | Azure Sideboard | Spear Dining Table | Boulevard Chairs | Bernini I Pendant Lamp | Kubrick II Mirror
2 Chairs with surprising Colours
As we mentioned on the previous topic, to contrast with the neutral colours we recommend the chairs of the dining room to have a stronger, surprising and bright colour. Thus, you will create an attraction point around your dining table and quite naturally you will create pleasant moments of entertainment.
For this purpose we recommend Grace Chair. A creative and dreamy chair by the lines of its distinctive design, always distinguished by its refinement. If you like irreverence, mixing this chairs with the oval dining table Zoe you will get quite a singular and astonishing decoration.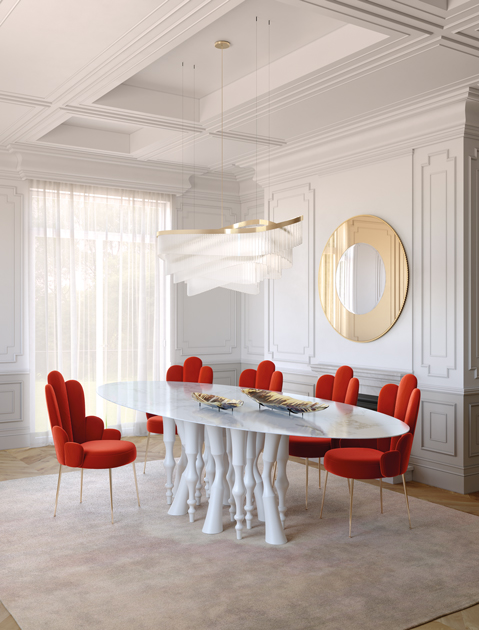 Grace Chair | Zoe Dining Table | Christie Pendant Lamp | Apollo Mirror
3 Round Dining Table
A round table is perfect for your dining room, it creates the felling of a bigger and more dynamic space, where everyone around the table can see each other and talk without barriers. If you are a lover of the long moments spent by the dining table this is the perfect decoration solution for the dining room.
Elle dining table is the piece we propose for this effect because besides being a round table it has the special characteristic of the arches in stainless steel on its base which create contemporary and rhythmic decorations.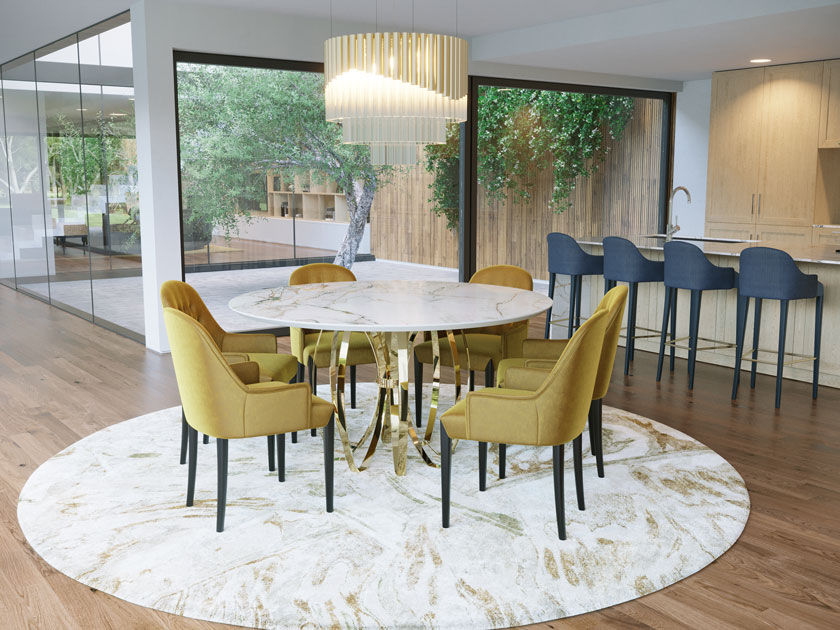 Elle Dining Table | Dixon Chair | La Scala Pendant | Dixon Bar Stools
4 Pendant Lamp on the centre of the Dining Table
A pendant lamp on the centre of the dining table apart from being attractive has the ability to illuminate the whole room with a warm and soft light, creating a more intimate atmosphere.  You can choose to use a lamp that follows the shape of the table, or even a set of lamps.
In this case, for the dining room decoration, we suggest you a classic inspiration where Bubbles pendant lamp is the element that creates dynamism and bring a touch of contemporaneity to the dining room decoration.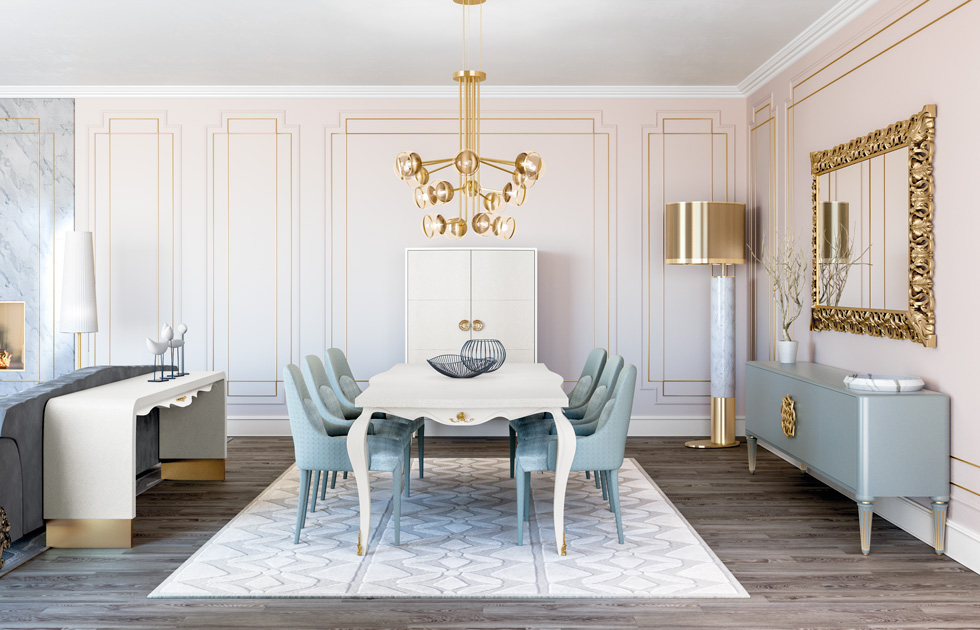 Divine Dining Table | Dixie Chair | Bubbles Pendant Lamp | Durham Sideboard | Louvre Mirror | Bernini Floor Lamp | Divine Bar Cabinet | Divine Console
5 Decorative Mirrors
Decorative mirrors always enrich any space. Decorative mirrors always enrich any space. In the case of the dining room they bring more light, brightness and elegance to it, also managing to create the illusion of larger spaces.
Louvre Mirror is made by the hand of the best artisans. A classic decorative mirror full of small carving details manually sculpted.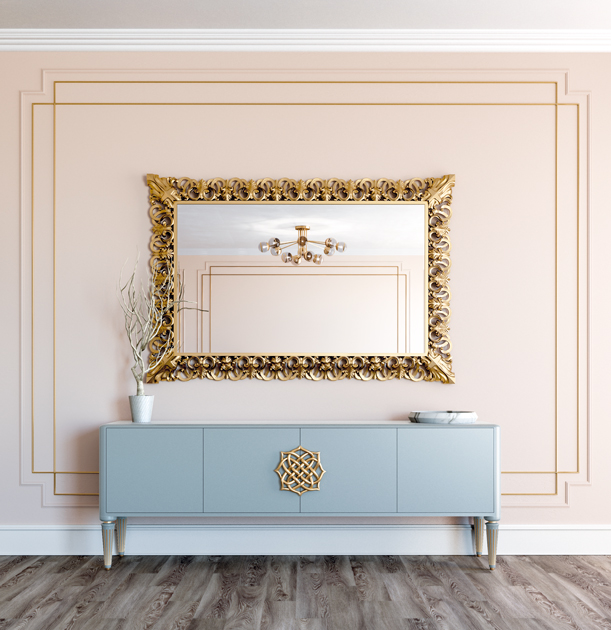 Durham Sideboard | Louvre Mirror
Have the dining room of your dreams with these 5 Dining Room Decoration Ideas from Jetclass or contact us to know more!