With the arrival of the joyful and colourful seasons, new colour trends for Spring/Summer are unveiled. This new colour scheme is characterized by colour which convey hope and optimism. The colour combination you'll choose to use on your home during this new season will reflect the pleasure and joy that these colours can bring into your life!
Home is a place where we should feel well and the colours you'll pick for your interior decoration have an important role in your well-being, especially now that one spends more time at home. Check the tricks below about how to make trendy summer colour combination at your home.
Colours
Pantone presented the colour scheme for this Spring/Summer, composed by colours like PANTONE 15-3716 Purple Rose, PANTONE 14-3205 Pirouette, PANTONE 18-1552 Lava Falls and PANTONE 13-0647 Illuminating.
The Colour Institute also presented a colour scheme of the main classics, composed by PANTONE 17-5104 Ultimate Gray and PANTONE 11-0202 Baby's Breath.

Relaxation Spaces
Longer, warmer days filled with vibrant and joyful colours that cheer our days are ideal to rest and relax on the outsider.
With the use and colour combination of light and soft tones as lilac and pink you can create a light and relaxing space and bring it inside doors.
If your relaxation space is the living room, an armchair in light and soft tones is the ideal, being possible to customise the fabric, the material and the colour, hence you'll be able to fit it perfectly into your living room interior decoration.

Pierre Armchair | Da Vinci Curved Sofa
Social Spaces
If you're already thinking about of home decor ideas to your social space in a way you can convey the sensations of joy and happiness we have the solution for you!
Green and yellow take nature and tranquillity indoors and contribute to a bigger sensation of well-being and comfort.
Red and blue, in stronger tones, bring energy and create warm and inviting spaces.
The colour combination of stronger tones with lighter ones is suitable if you want to build a space of joy and leisure keeping the tranquillity and balance.
Due to its remarkable comfort and big dimension, a curved sofa is ideal for social moments with family and friends.

Da Vinci Curved Sofa | Cosmos Coffee Table | Twiggy Stools
Working Spaces
Due to remote work it has never this important to have a working space which is comfortable and provides productivity.
For that, we advise the use of Pantone's classic colour scheme, which has brown tones and neutral colours like white and grey and is ideal for the decoration of your working space.
A simple and elegant desk is ideal for a home office, because it is adaptable to any style of interior decoration due to its aesthetics with straight lines and minimalistic details.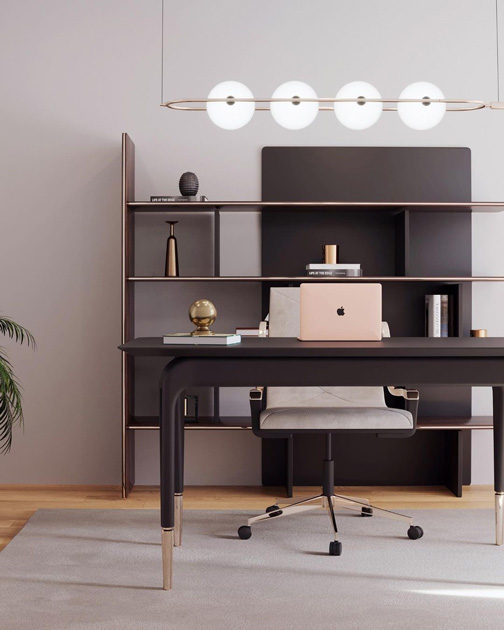 Parker Desk | Jackie Office Chair
Also as an essential factor of working spaces is lighting. We invite you to dicover how to apply decorative lighting in your decoration. But working spaces decoration isn't just this, so discover how to decorate a home office.
As you can see there are countless possibilities for colour combination. From the decoration of social spaces to the decoration of working spaces. You only have to choose the colour scheme which is more suitable for each space!
We hope with this suggestions you already have more ideas of how to choose summer colour trends on your home. If you want to keep being inspired by our hints, subscribe the newsletter to be the first to receive the latest!