Wallpaper is back at the vanguard of the interior design world. This wall covering is becoming an increasingly popular feature in the creations of interior designers: whether to renovate, hide a particular finish or personalise a small space.
The golden rule is to value harmony: by doing it properly, you can use this decorative element in different rooms. Want to know how? Get to know some of the tips we have for you!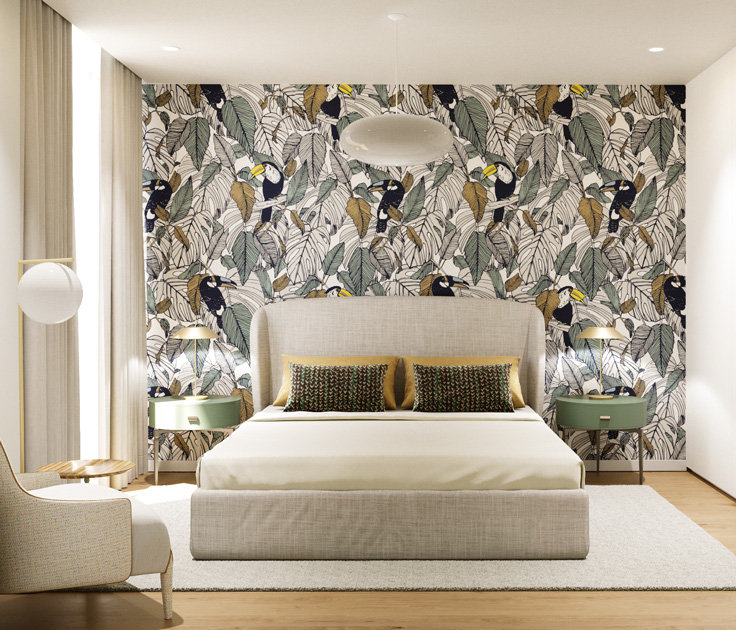 What you Need to Consider when Choosing Wallpaper
Wallcoverings represent a higher investment than using paint, for this reason you should "date" the samples before "matching" with the whole roll.
The most common mistake when selecting a wallpaper is in not considering the scale of the pattern you want to use. Thus, you should always take into account how the scale of it relates to the place where you will apply it and how it connects with the other elements of the decoration.
Think long-term: where, by whom and how it will be used.
If you are decorating an area with more requirements, such as a bathroom or kitchen, make sure that the model you choose can withstand the activity and cleaning needed in the space.
Interior Designers' Favourite Places
Passions vary: smaller spaces such as bathrooms, kitchens, marquees, among others, tend to be a space of choice for many interior designers. These areas require unique and differentiating elements such as texture or pattern that are not possible through paint.
Larger rooms, such as dining rooms, entrance halls or bedrooms are also a source of attraction for professionals in the area. The solution in these areas is to place the paper on the ceiling or on a single wall, highlighting that area of the room.
If the space has decorative elements with strong colours or many patterns, you can cover all the walls with a neutral colour paper or a subtle print. One of the luxury wallpaper brands is Phillip Jeffries. This brand will bring you endless possibilities for your projects through truly distinctive prints.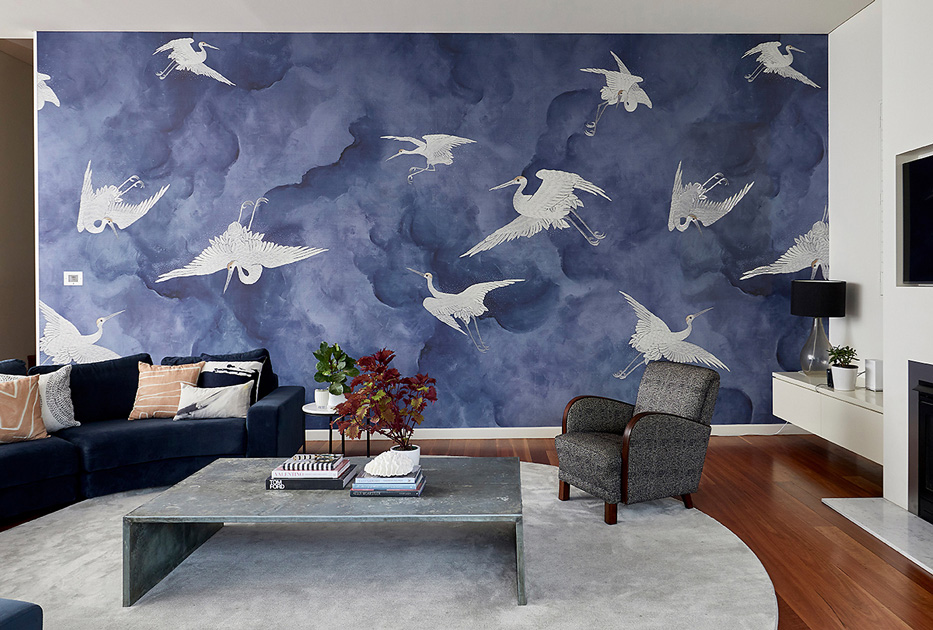 Living room by Mi Designer Styling with wallpaper Flight by Phillip Jeffries.
Types of Wallpaper
Liner
This is the most traditional type of this wall covering. It is only composed of cellulose fibres and is therefore the most fragile of all the paper types. The durability is around 5 years and cleaning must be very gentle with a soft, dry cloth. However, it is probably the type that presents the most varieties and the most attractive prices.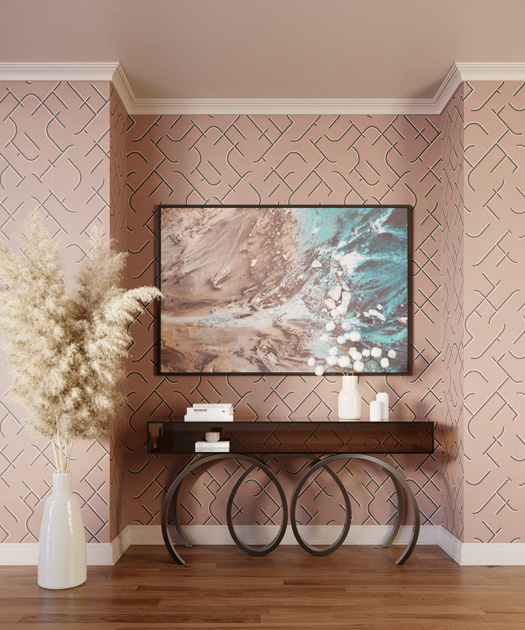 Vinyl
Vinyl wallpaper is composed of PVC and this composition translates into high durability and, consequently, the ideal choice for areas with high traffic, humidity and natural light incidence. This type also allows it to be washed with a neutral detergent and a soft sponge.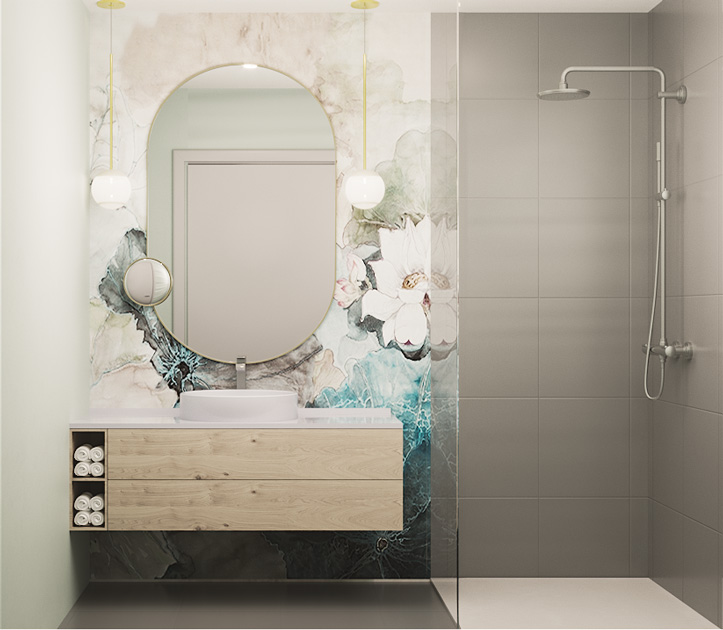 Silk & Satin
Due to its composition, this is the best option if you are decorating a space that will be frequented by people with dust allergies. Its satin texture reduces the accumulation of residues and has, at the same time, a very soft touch. If your creation is a children's room, for example, this will be a great choice.
Non-woven
The name speaks for itself: non-woven fabric. Its composition of polyester fibres and cellulose allows this covering to have the appearance and texture of fabric and wall. It can also be applied to damp areas and cleaned with a moist cloth.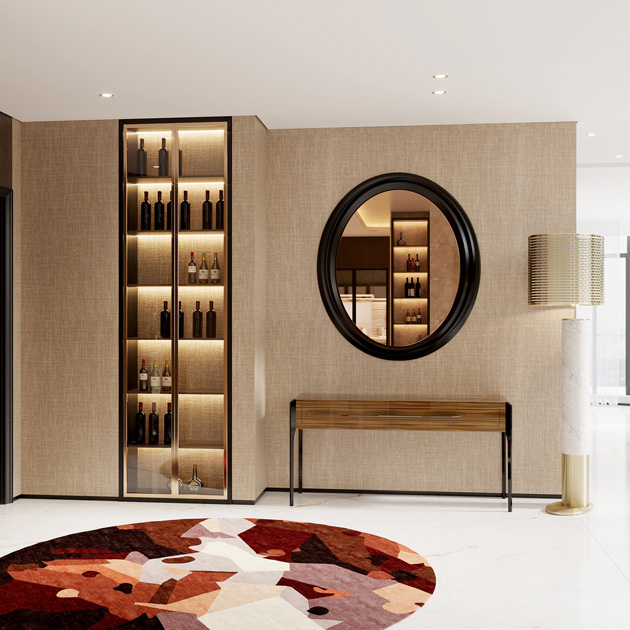 Velvet
Velvet conveys a sense of refinement, ideal for decorations in the classic style. Given its delicacy, it is recommended that this type of paper should not be exposed to the sun.
As for cleaning, it should be done using a hoover.
Wallpaper with Pressed Stone
This is the most distinctive model as it is composed of pressed stones on the surface, such as mica. Despite its beauty, it can only be used in dry areas and cleaned with a duster.
As you see, decorating with wallpaper is not difficult and today there are countless solutions. Continue to work your creativity and offer the best solutions to your customers, whether for a luxury bedroom, or with differentiating elements such as bar carts. We hope you enjoyed our article and that you visit our website for more tips and inspirations!
Related Posts