A fundamental step in the decoration of your living room is the choice of the central piece: the sofa. This is possibly the key piece in terms of home decoration for living room. Besides the importance it has visually for the interior decoration, this is also a fundamental piece for your wellbeing.
We know that choosing the perfect sofa is not an easy task because you have to have several factors in consideration and it is a choice that has to be quite weighted. A sofa represents relaxation at the end of long day of work and fun moments with family and friends. Have you ever imagined yourself laying down on your chaise longue watching a movie?
Even at this point we can understand how important it is to know how to choose the ideal sofa for you and the one that also fits not only in your home interior decoration but also with your lifestyle. Do you want to know how to choose a sofa for living room? Check the tips we have for you in this post!

Da Vinci Sofa | Triny II Coffee Tables | Twiggy Side Tables | Glamour Mirror | Elle Dining Table | Keira Chairs | Triny Sideboard | Bernini Table Lamp | Bubbles Pendant Lamp
What size should the sofa be?
One of the first factors to have in consideration in the moment of choosing is the size of the sofa. This choice and of the model itself might change the perception you have of your living room dimension.
The size of your living room space will be a factor of great importance in your choice. If you are considering buying a large sofa you will need the space of your living room to be equally wide. However, this choice is not that simple and there are other matters to have in consideration.
In addition to having to measure the available space it is also important to think about the layout of the room. You have to consider whether you want to combine the sofa with other furniture pieces, as coffee tables, armchairs or even if you want to have more than one sofa.
You must ensure that you have enough space to move around and that the ambience is not too crowded and that you can establish a harmonious relationship with the rest of the furniture in your living room.
Is your living room small? A compact and practical model might be a great solution.
Is your living room of big dimensions? If it is you can opt for a big sofa, with chaise longue, curved or even combine different models.
Eden sofa from Jetclass is the ideal solution for you, it allows you to explore creativity in your home decoration for living room and this model also contains a system of sliding seats and different sizes versions! You might even choose for the chaise longue version.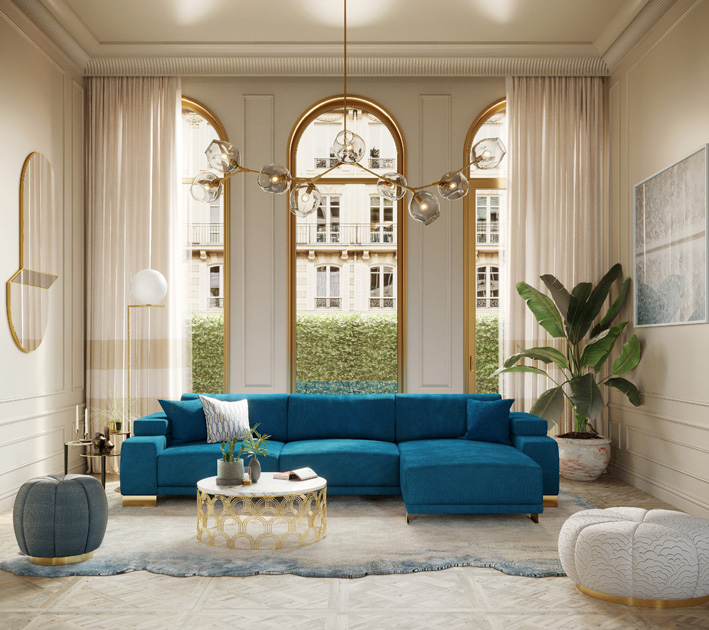 Eden Sofa | Cosmos Coffee Table | Scott Poufs | Joplin Side Table | Gliss Mirror
What is the best colour and fabric for the sofa?
Have you already chosen the ideal sofa size for you? Great! Now let's think about the points that are quite often directly related: colour and fabric.
Your taste here is very important. A sofa of genuine leather is a classic! It always gives a refined look to your interior decoration of any home. We know that this material is a bit cold unlike velvet, suede or even chamois, which are smoother and softer. That is, there is no wrong choice! The perfect choice is the one you like best, that goes along with the comfort you are seeking and also meets the functionality you need for you daily life.
Regarding colour, neutral tones are without a doubt the safest choice. You can always mix it with other colourful elements like decorative pillows, jars, vases, amongst others.  This is a great low cost solution for those who like to stay up to date with the latest trends.
Nevertheless, you can always be bold and choose a colour for your sofa that conveys energy to the space, bringing life into your living room! Especially if we are talking about a space whose interior decoration already has a predominance of neutral tones.
Bogart sofa from Jetclass combines elegance and comfort on an impressive structure. It can be produced in velvet or any other fabric and it also allows the coordination of different colours and textures between its structure and cushions. It is in your hands the choice of what fits better in the decoration of your living room and what is more comfortable to you. If you have any doubts our interior designers are available to help you!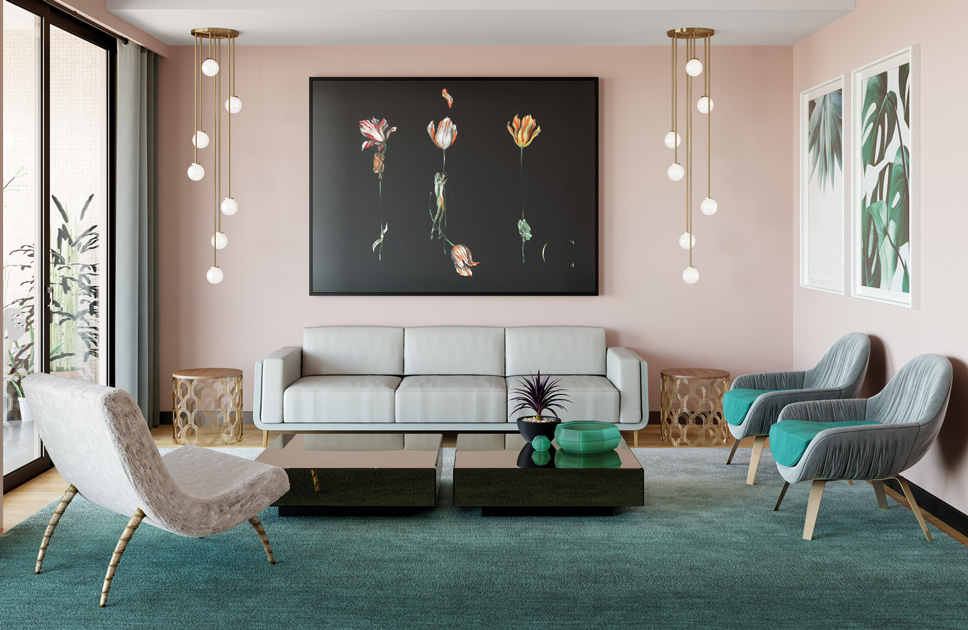 Bogart Sofa | Mille Coffee Tables | Cosmos Side Tables | Valentina Armchair | Draper Armchairs
Living room style
Another factor to have in consideration is how your sofa flows with the already existing interior decoration of your home and of your living room. Once the sofa is the element that stand out the most it must be in harmony with all decoration.
Whether it is a sofa of classic style or with a design more related to the contemporary style the important point is that you like it and that it feels harmonious with all the ambience.
Faith sofa from Jetclass might be a solution in case you are seeking for a vintage look in your home decoration for living room. This piece also allows you to combine different fabrics and colours.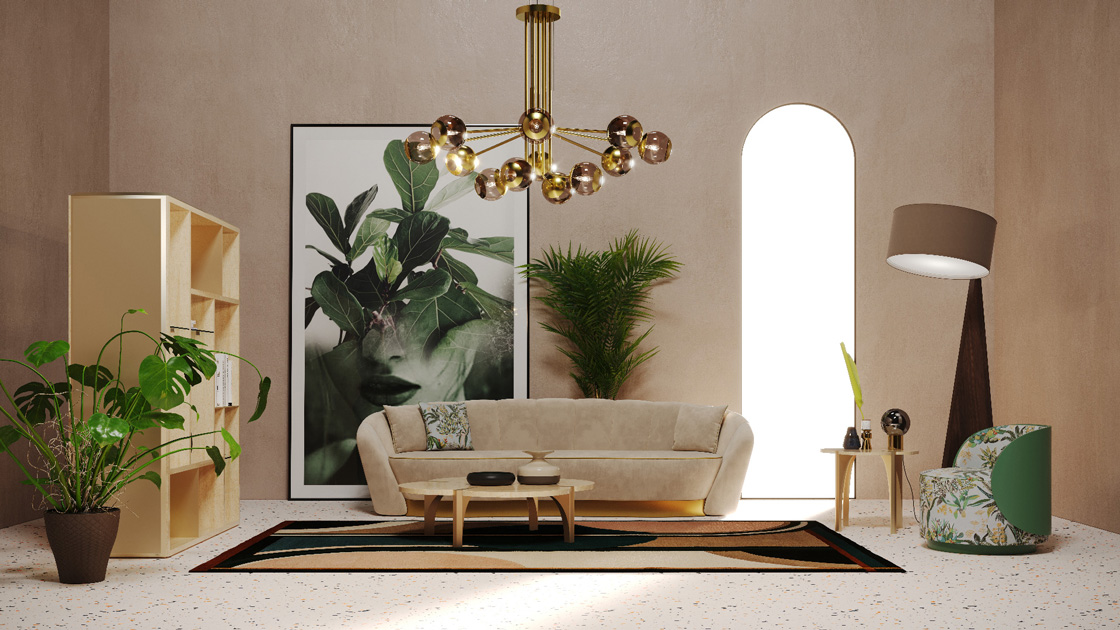 Faith Sofa | Clover Coffee Table | Knox Bookcase | Clover Side Table | Blake Armchair | Belfast Floor Lamp | Bubbles Pendant Lamp
With this post we present you a few necessary tips of how to choose the right sofa for your living room. The most important is your comfort! That can never be left aside, especially nowadays when we spend so much time at home. Get in touch with us and our team of specialists will help you find the ideal sofa for your living room decoration.
Did you like this article? Read also: How to Decorate a Home Office.