The short, cold days are coming to an end and with them comes one of the most colourful and energetic seasons of the year. We will soon be welcoming spring. With the weather warming up and the colours outside getting warmer, it is normal to feel more motivated and cheerful, after all, spring represents a new cycle.
Interior design projects should not be the exception and you can also bring the good energy of this season indoors by making changes to the interior decoration of your space. Want to know how to prepare a spring decoration? We give you a few suggestions!

Colour
With the sun rays coming through the windows and the streets full of colours from the flowers that are blooming in the city gardens, one of the main tips that we can give you is to use colours full of vivacity.
Some of the colours that will be in trend this season, and will continue through the summer, will be soft lavender, canary yellow, bright pink, salted caramel, scarlet and sky blue. Naturally, a spring decoration cannot lack different shades of green. After all, it's all about bringing a bit of the joy of nature into the interior and conveying feelings of joy and contentment to those who live in that space.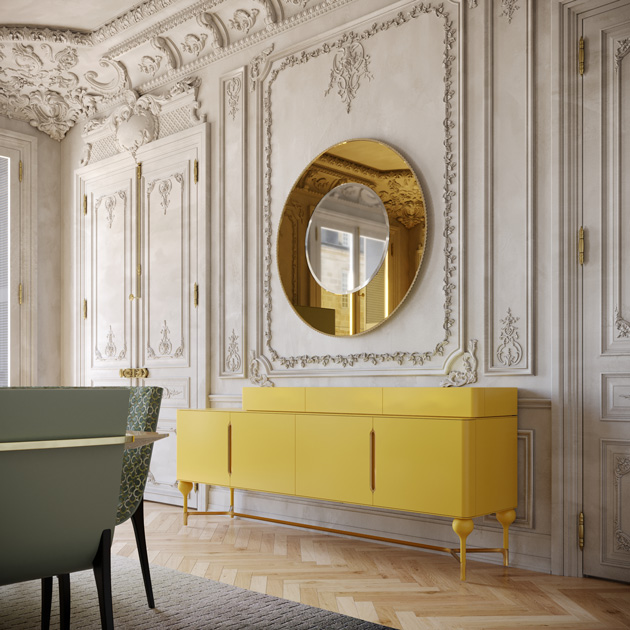 If we're thinking about living room decoration, it's easy to apply this decoration trend. You can start by using the colours of the season, or other equally cheerful colours that you like, in small details or in some pieces of furniture.
If you want to be bolder, opt for wallpapers with spring colours and motifs. We also challenge you to give a subtle summer touch to your decoration with colours like cyan blue, deep blue, warm orange and Kelly green – other colour trends that will be noticed.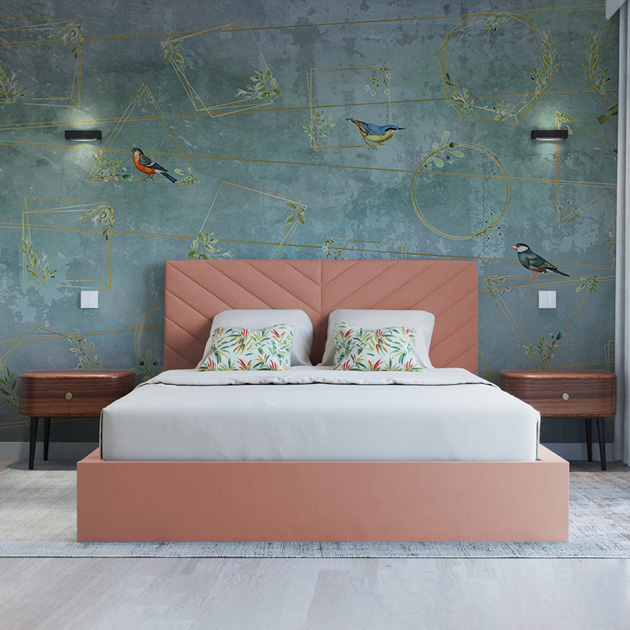 Bed from Shape&Form and wallpaper from N.O.W. Edizioni
Light Fabrics 
It's time to put wools, knits and other winter fabrics aside. Although cosy, they are suitable for the colder months of the year. Spring will bring you more energy! So, replace those fabrics with lighter ones with more vibrant colours.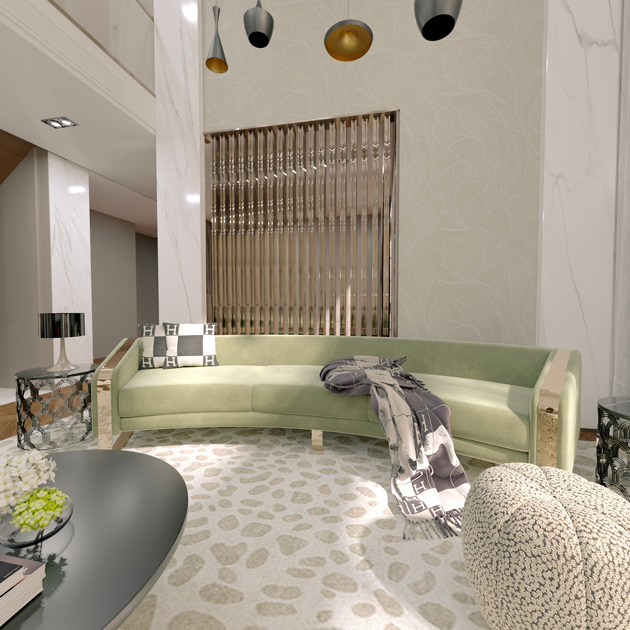 The cushions with light and bright colours may be a good alternative. You'll easily be able to change your current cushion covers and give the interiors of the house a spring decoration look. In the bedroom, don't leave out the changes. If you've opted for more discreet furniture, opt for a spring duvet and, why not, finally create the reading corner you've wanted for so long? It's ideal for recharging your batteries and creating a sense of refuge, while at the same time bringing the decor closer to that of a luxury hotel room!
Flowers
When you think of spring, what is the first image that comes to your mind? Most likely your answer has been flowers, or nature in general. No matter which one, nor their colour, flowers will always bring life to home interior decoration and are the symbol of a spring decoration! It is a solution that will allow you to combine several colours and will bring a fresh scent to any room. Use and abuse! In the absence of natural flowers you can always use them in patterns on fabrics or in pictures.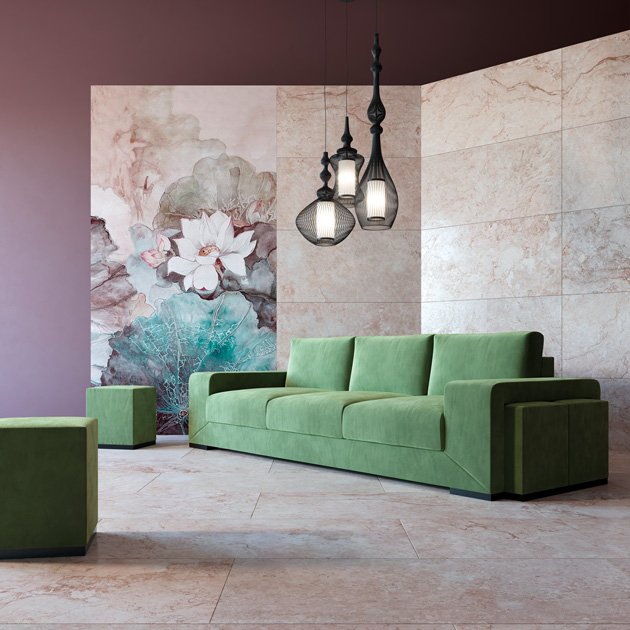 Sofa from Shape&Form and wallpaper from Wall&decò
As you can see, this season is a great opportunity to do what you've been waiting for: breathe new life into your projects with spring decor and small changes! Now, if you're looking for bigger changes, such as completely remodelling your living room or bedroom, we advise you to keep an eye on the annual interior design trends, where you'll find materials such as rattan, metal or wood.
We hope that with these suggestions you already have more ideas on how to prepare a spring decoration. Use the chat and talk to us for new ideas!
Related Posts