The Pantone Color 2021 are two!  If you think the year of 2020 was atypical what do you have to say about the colour institute choosing two colours?
Every year the moment that Pantone announces the colour of the year is highly awaited. For everyone's surprise, on the change from 2020 to 2021 we have two colours. Pantone decided that this was the right time to convey a message of strength and happiness through the Ultimate Gray (grey) and the Illuminating (yellow). Are you already thinking how can you mix this tones into your home interior decoration? We will show you how you can apply the Pantone Colours of 2021!
Pantone colour of the year influences, year after year, the purchasing decisions in the most varied sectors, being those fashion, decoration, graphic design, amongst others.
The choice of the colours Pantone 17-5104 Ultimate Gray and Pantone 13-0647 Illuminating brings strength and hope to the year of 2021. Believing that everything will be better is essential to the human mind.
Let's then bring renewed hope inside doors and understand how you can change the interior decoration of your home, in small details and accompany this new trend that Pantone has brought!
Wallpaper
The walls of your home may be a great starting point without the need to do a full reno. Wallpaper is a great option for those who seek small changes without the need to invest a great deal of money. Choose the Ultimate Gray for the wallpaper of your living room, for example. You don't need to apply it to the four walls, it is probably enough to do it in just one. This Pantone colour will look great in your living room, don't you think?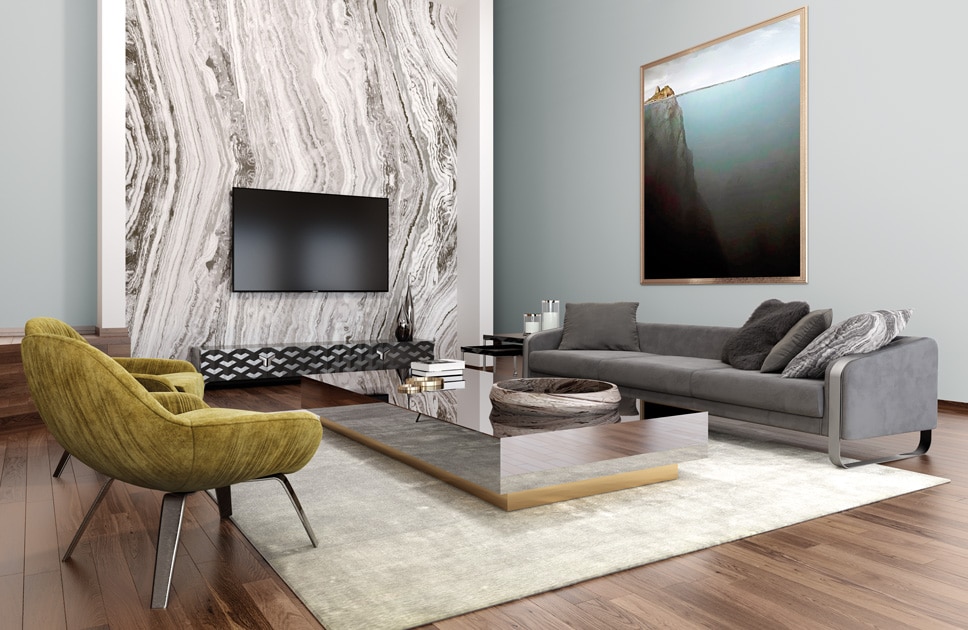 Triny TV Stand | Twiggy Side Tables | Bohème Sofa | Mille Coffee Table | Draper Armchair
Arts
Without stepping out the area of decorative elements, we have another solution for you: an art! Whether with the tone Ultimate Gray or with the tone Illuminating, it will be a nice complement to the decoration!
Lotus frame from Jetclass is a true work of art with an upholstered geometric pattern that confers strength to any space. It will go along well with the message Pantone wants to convey with the two colours choice!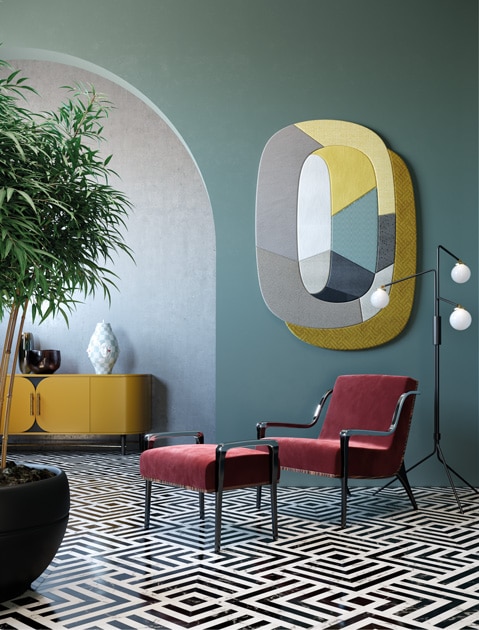 Lotus Frame | Jackie Armchair | Jackie Pouf | Azure Sideboard
Accessories
A jar with the Pantone Illuminating would work well on the top of a side table in your living room.
Who says a jar, can say a decorative ashtray or any other decorative piece to put on a table and that can bring the energy of the colour Illuminating into your living room.
In case you want something bolder you can incorporate a side table or bedside table in Illuminating. Manhattan side table from Jetclass is the ideal piece for this purpose. But if you want something more discrete, the possibility to do this piece in Ultimate Gray finishing instead, would also fit perfectly.

Manhattan Side Table | Loft Bed
Decorative Pillows
Decorative pillows are another alternative for your new interior decoration! You can do it in different rooms of your home. Whether on the sofa of your living room or even on your bed, in your bedroom, with this elements it will be easier to follow up with the latest interior decoration trends.
Have you ever imagined the joy that you will bring into your living room decoration by putting a few pillows with the Pantone colour Illuminating? You will certainly wake up with much more energy!
Let's make the interior decoration of your living room even more elegant?
In a way that you can combine the two colours, we suggest you Royal Sofa, which includes complementary pillows, in Ultimate Gray tones Nubuck with the feet in silver leaf, aged or regular, or in gold leaf, that can also be aged or regular. An exquisite piece with superb finishes.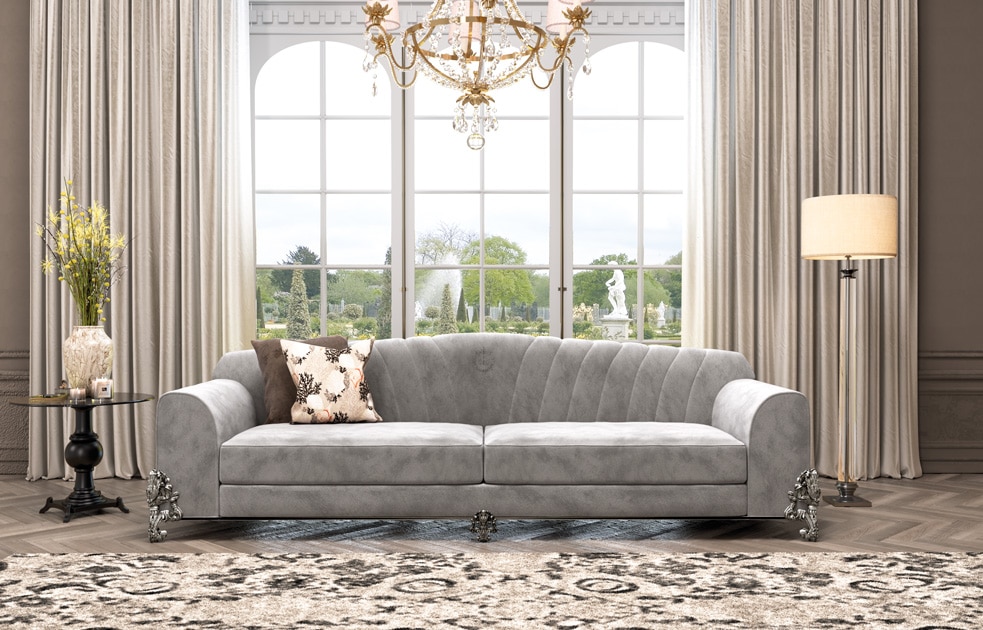 Without forgetting your bedroom, we suggest as a complement the armchair Callie from Jetclass! An armchair that conveys elegance and glamour to any bedroom. The outside structure can be lacquered or done in wood veneer and the inside is totally upholstered with a flawless tufting technique. This piece provides a sophisticated and, at the same time, subtle look to the space.  And do you wat to guess in which colour we will suggest it? You are right, Ultimate Gray!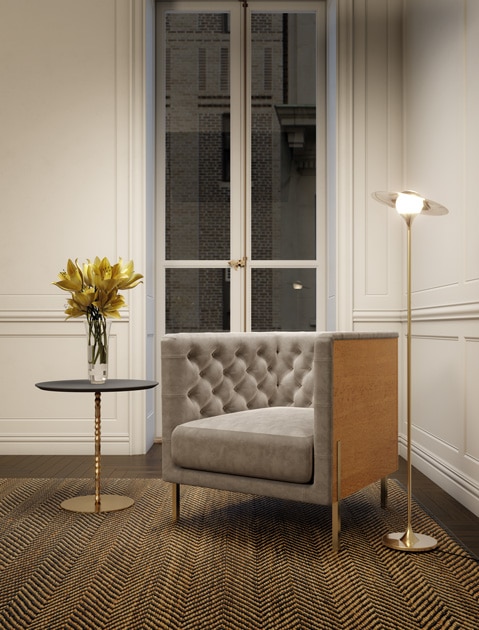 Callie Armchair | Bleau Side Table
As you can see there are several solutions with which you can implement Pantone Colours of the Year into your interior decoration. Between the Ultimate Gray and the Illuminating you will be able to provide a fresh look and vibe to your home!
Did you enjoy reading this article about How to use the colour Ultimate Gray and Illuminating on your decoration? Read also: Pantone Colors of the Year 2021.